Here is some helpful information on how to set up a multiple location business websites. When a potential customer searches for a local business, Google first displays results from Google My Business before the remaining organic business listings. Therefore getting listed correctly in Google My Business is more important than your organic business website ranking. See below an example of the Google My Business listing when a user searches for 'web design' in my local area Mahopac. 
See below an example of the Google My Business listing when a user searches for 'website design near me' in my local area of Mahopac, NY: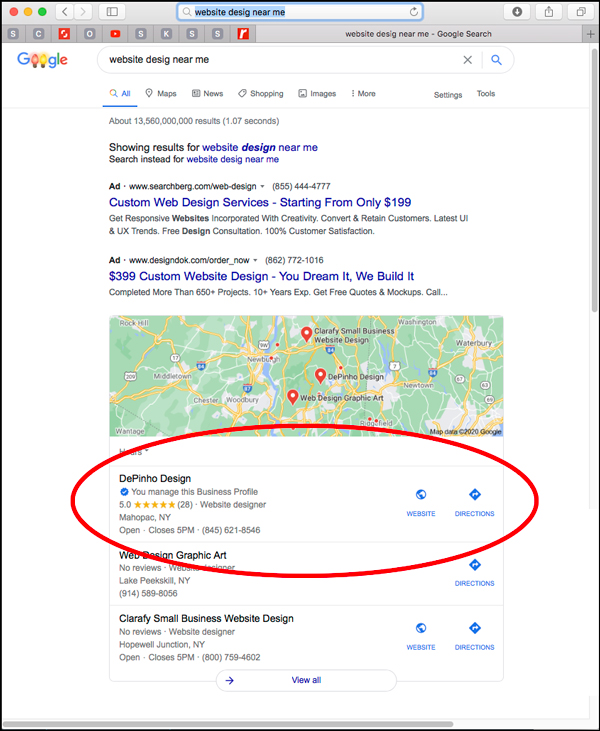 If your multiple locations business site is not structured correctly, a search will yield poor ranking. Therefore it is essential to build the website correctly from the start. It should be easy for the visitor to learn about each location and the specific offerings of each location.
Your website should be mobile-friendly, as 50% of searches are made from a mobile device, then used for directions to your location. This is where Geo-targeting is essential.
Geo-Targeting: This is the practice of delivering different content based on the geographic location of the end-user. This allows Google to provide the correct content for each of your locations. Local search converts better than any other source of traffic, and can also increase your business organic search results.
To utilize geo-targeting, there should be a link in the main navigation to a Locations page that will list each of the business locations. This main locations page will list the different locations and link to a separate page for each business location. These individual pages list the physical address, phone number, hours of operation, photo of business, map and type of service offered at that particular location.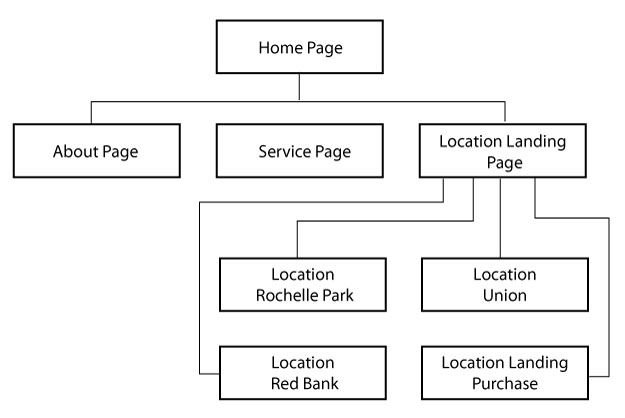 City Specific Page Structure
The name of the city should be in the page title and alt image tags

The page should contain at least 600 words of unique content

This content must be different and unique to each city page

Use a wide range of phrases other than your targeted keyword phrase

Use relevant subtitles

Link the city page to the Google My Business listing

Embed local schema markup code for each location page on your site.

Use Rank Math for SEO

Embed local Schema Markup using RankMath code

List the city-specific phone numbers on Google My Business
A closer look at optimizing a Google My Business (GMB) page

NAP Consistency: Consistent unique NAP (name, address, phone) for each location is important to avoid duplicate content issues and enable proper location indexing.
Business Name: Make sure this is your correct business name. Some businesses try to add keywords to their business name to rank higher in maps. Doing this could cause your listing to get removed completely.
Some suggest using a unique business name for each location. For example, if your business name is Smith Construction, using city-specific DBA's,
i.e. Smith Construction of Bethesda
i.e. Smith Construction of Rockville, etc.
Google will allow you to use different names for each location only if the name matches the business's "real-world name."
It is not necessary to have a different name for each location. The same name for each location works well.
Use Unique Address: Make sure your address matches the address on the website, exactly. Sometimes Google will change certain elements of the address (like changing Street to st.), if this happens, change the address listed on your website and all social media to match the address that appears on your Google My Business Listing.
Also, each unique geographic business location address must be capable of receiving a postcard by mail so that Google can verify the address. If this isn't possible, your business will not receive a GMB listing for the location.
Use Unique Web URL & Unique Phone Number: Each location needs a unique local phone number, rather than a central number, whenever possible.
Although separate websites for each location are not necessary, each location needs its own unique website URL such as mysite.com/tysons and mysite.com/mclean
Add Categories: You can add up to 5 services. Choose the ones that are the most relevant to your business. Some recommend using as few as possible to prevent brand dilution.
List Business Hours: Be sure to fill this out completely.
Add Multiple Photos: Try to add up to 10 photos. You can use pictures of the inside of your store, staff pictures, and so on.
Unique Content Introduction: Write unique content that is completely different than anything you currently have on your website. Be sure to list the services you offer and link those services to the proper services pages for each location.
Link the GMB Page to the Corresponding Website Location Page: Since there is a correlation between your onsite optimization and your ranking in maps, link each GMB page to the URL of the specific location page. Make sure the name of the business, the phone number, and the address match what is on the Google My Business page exactly. To rank your location page, you have to provide more value to your visitors than any other page you are competing against.
I hope you found this article helpful. Please take time to check out my website portfolio.